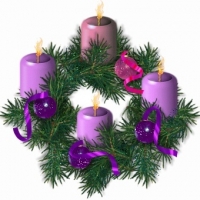 Celebrating Advent in Modern Culture
By Rev. David Wilson Rogers | November 27, 2013
Sometimes it feels as we are so engrained in a rush-rush culture that we try to rush things that are better left slow. This is never as clear as when the church enters into the season of Advent!

Advent is an observance in many churches that marks the four weeks prior to Christmas. It is, in fact, one of the oldest annual observances in Christian worship. It's liturgical origins date back at least as far as the fifth century.

In churches that celebrate Advent, a common symbol is a special wreath or candles symbolizing the coming of Christmas. Every Sunday an additional candle is lit, one for each of the four Sundays of the season, culminating with the glorious celebration of the Birth on Christmas!

It is a time of prayerful waiting, longing, anticipating, and preparing for something special that is yet to come. The season is not about celebrating the birth of Jesus Christ, singing traditional Christmas carols, or exchanging gifts. Even the name "advent" calls to mind this idea. It comes from the Latin word for "to come to." It literally is a season to bring us to Christmas.

The season of Advent looks toward two particular realities in the Christian faith.

First, it prepares for the annual celebration of the most significant birth to ever take place in human history. Much like a family preparing to welcome a newborn into the household, Advent preparations seek to prepare our hearts to receive Christ anew in our lives.

The second faithful anticipation highlighted in Advent is the promised second coming of Jesus in full glory. Much of the seasonal worship looks beyond this present age to the glorious time of Christ's full and eternal reign on earth.

Often I think we allow culture to rush—or at least reinterpret—the significance of Advent.

Due in large part to the secularization of the season Christmas is rapidly becoming a two-month retail and entertainment event that begins after Halloween and ends after the New Year.

Part of the problem of rushing Christmas is that by the time December 25th rolls around, people are so stressed out, frustrated, and downright tired of the Christmas season that they can't wait for it to end. Ironically, in the ancient traditions of the Church, December 25th is only when Christmas begins.

(If you want to get technical, the traditional Christmas in the ancient Christian calendar lasts twelve days—from December 25th to January 6th. Believe it or not, the Twelve Days of Christmas are a lot more than a popularly annoying song.)

This does not suggest that Christians should stop our Christmas celebrations, hide our trees, and turn off our Christmas lights until the Christmas season is really here. As with so many things in our world, the season is far more than the religious observance it once was.

As a people of faith, however, it is vital that we take Advent a bit more seriously. More than a candle-lighting ceremony that takes place in many churches, imagine Advent as a way of life for Christians in general. Starting December 1, take time every day to read the scriptures of Revelation, Daniel, Ezekiel, or Isaiah. Prayerfully consider what it means on a daily basis to welcome the newborn Christ into your life, your home, your place of work, or your church.

Most of all, rather than spend these four weeks rushing around trying to make sure everyone on your gift list is covered, take some extra time making sure your own heart is properly prepared and join with the world in anticipating—not rushing, but anticipating—one of the greatest miracles ever known! Have a Blessed Advent Season!


Back