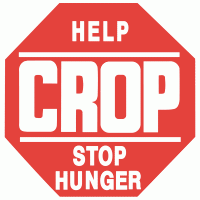 CROP Walk Update
By Jenny Grinstead | April 14, 2013
Dear CROP Hunger Walk Friends,
This is to invite you to a gathering at St. Peter Evangelical Lutheran Church with Art Ziemann, Regional Director for Church World Service, Rocky Mountain Office, on Monday, April 29th at 6:30 pm. He will be here to speak with us on this world mission that we participate in each year and to answer any questions we may have. He is bringing a PBS Visionaries video on "Church World Services." Please invite interested people in your congregation and get the word out, maybe in your bulletin. Please call or email me with any questions. I really hope you can come! I appreciate your time and participation in this November community event.
If you could let me know if you're coming, I would really appreciate it. Maybe you could send a representative if you personally can't make it. Feel free to forward this message to others.
Many thanks!
Jenny Grinstead
Back