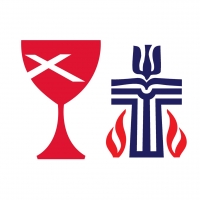 Dave's Report to the Church Board regarding the Lenten Ministry Experiment With the First Presbyterian Church
November 24, 2015
What an awesome time to be part of this amazing church. The energy surrounding the planned Lenten Journey in Shared Ministry with First Presbyterian is amazing. I've talked with many in the congregation and the overall sense I am getting is overwhelmingly positive. Understandably, there are some who have legitimate reservations. I had several myself. It is a very big and bold step. It is important to remember, however, that the Transformation Team has labored hard and prayed even harder over this decision and we are convinced that this is nothing short of God's Spirt in our midst moving to bring about a new and bright future for the ministry of Jesus Christ in Carlsbad. There are, however, a few points that must be kept in perspective.
This is not a permanent decision or a prelude to a merger. It is an experiment to see if such possibilities are within the cards for our two congregations. The transformation team has been tasked with developing ideas and testing them and this temporary experiment is the fulfillment of that sacred charge.
We love our building and leaving, even if only for a few weeks, will be painful for some; including myself. We must also remember that the building is not our church. It is, in fact, just a tool that the church uses to do ministry. A large factor in the conversations going all the way back to May of 2014 is the fact that this building has become a burden to the ministry, not an asset to it. During the conversations, it was appropriately pointed out by Ellen, and validated by the transformation team, that the serious maintenance issues facing this church building, coupled with the recently renovated state of the Presbyterian building make the use of their facility over ours the more practical consideration. What will ultimately happen to this building is largely undetermined and will remain so until after Easter when the full board has the opportunity to consider the long-term options for the congregation and its property.
We are not becoming Presbyterian and they will not become Disciples. The plan is to have a shared ministry that upholds fidelity to both denominational traditions.
The Christian Church (Disciples of Christ) and the Presbyterian Church USA are both strongly in support of this initiative. I have had conversations with Charlotte Hoppe with the Mission West Area and Regional ministries and Rick Morse with HOPE Partnership and they enthusiastically offer their support for this bold experiment. It is a model that is being used successfully in other congregations and across denominational lines and is a powerful and positive vision for the future of God's church.
The Transformation team, in cooperation with the Presbyterian Church has put together a small team of individuals to assist in the shared ministry. This team consists of three lay persons and the pastor from each congregation. Our church is sending Sue Gamboa, Mike Pfeifer, and JoAnn Stevens, along with myself. Our first meeting will be next Monday and we will be meeting consistently throughout the entire seven weeks of the shared ministry to discuss and plan all aspects of the shared ministry.
Communion is a specific issue that has been mentioned by many. It is too soon to say how communion will be handled as the shared ministry team has yet to meet and consider the options. I am confident that we will find ways to accommodate this important aspect of Disciples faith.
This is not a merger. Both congregations will maintain separate boards, budgets, and legal standing throughout the entire seven weeks. Worshippers will be allowed to designate which congregation will receive their offering.
The times and number of services offered on Sunday morning will be discussed and determined by the Shared Ministry Team. There has been discussion for a single worship with everyone and two services but it is too soon to determine how the final worship schedule will look.
This is not going to be an easy change and I recognize that for all the excitement and enthusiasm surrounding this bold experiment, it is somewhat frightening for some. This is, however, a much preferable alternative to all the other options the Transformation Team has considered. The reality is, our financial solvency is gradually eroding and without taking bold, faithful, and spirit-led steps such as this one, we may not have any congregation in a few years. I encourage everyone to talk to me, the team facilitating the shared ministry, and support the initiative through your prayer and continued dedication to this congregation we all love.

Back