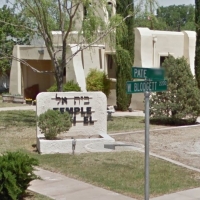 January 2017 Begins a New Start at Temple Beth El
By Rev. David Wilson Rogers | December 18, 2016

Beginning Sunday, January 1, 2017 the family of faith that is First Christian Church (Disciples of Christ) in Carlsbad, New Mexico, will begin worshipping on Sunday Mornings at Temple Beth El on the corner of Pate and Blodgett in Carlsbad.

The congregation of Temple Beth El is honored to offer their building and worship space to First Christian Church as we prayerfully seek God's will and discernment for the future of the congregation.

The church wishes to thank West Funeral Home for the generosity in the month of December for welcoming our family into the funeral home for Sunday worship and Christmas Eve worship during this time of abrupt transition. We are overjoyed at the faithful commitment to God's Word that West has demonstrated at this time in the life of the congregation.

Temple Beth El is a Jewish congregation that has a long and faithful history in Carlsbad. I accordance with the Jewish tradition, worship is not held on Sunday mornings which makes the shared space ideal for First Christian Church. This gives our church family time to prayerfully gather in worship and prayer in order to seek God's will for the future.

Worship will be on Sunday mornings beginning January 1, 2017, at 10:30 AM in Temple Beth El. Everyone is welcome and invited to share in the praise and celebration of God's word, prayer in the blessing of the Spirit, and Communion.

Back