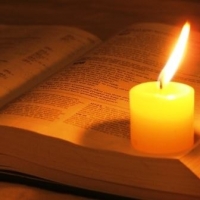 Lent Study Announced
By First Christian Church | February 6, 2014
March marks the start of Lent and our annual journey to the cross. For Christians, the Cross is one of the most significant symbols of atonement. In simple terms, an atonement is the price paid, service rendered, or sacrifice made to set right that which has been put wrong. In Christian terms, that simply means that as Christ died on the cross, he singlehandedly made the atoning sacrifice to set right all that had been put wrong by our sins. There is, however, much more to atonement. As the Lenten season begins to dawn on our church, it is the perfect time to make a focused study on this fundamental reality of Christian theology and belief.

Beginning Ash Wednesday, the 5th of March, we will have our annual observance of Ashes at Noon, to be followed by a light luncheon in the Fellowship Hall. Everyone is welcome to attend this sacred time of repentance and claiming the atonement made available for us in Jesus Christ. That evening, during the Bible Study at 5:30, the study will focus on the Atonement. We will then continue through Lent with a 7-part study on different aspects of Atonement.

March 5, 2014 "Atonement in the Real World"
March 12, 2014 "Images of Atonement"
March 19, 2014 "Atonement through Fellowship"
March 26, 2014 "Atonement through Justice"
April 2, 2014 "Atonement through Mission"
April 8, 2014 "Atonement through Living God's Story in the World to which God has Entrusted Us"
April 15, 2014 Atonement through Rituals of Faith: Baptism, Communion, and Prayers"

Each study will begin at 5:30 and end at 7:00 on Wednesday nights. The Study meets in the Chapel at First Christian Church and is open to anyone wishing to learn more about scripture, draw closer to God, deepen one's relationship with Christ, and cultivate a more powerful faith.

Back