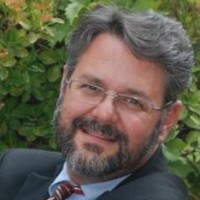 Preacher Dave's Ministerial Musings
By Rev. David Wilson Rogers | April 26, 2013
There is an increasing crisis developing in our nation. We've seen it build for years, watched it increase over time, and even wrung our hands over the pending doom. We hoped that late last year it would go away, but sadly, it has not. In fact, the dreaded reality has taken such deep root in the consciousness of our society, it is beginning to resemble a cancer of our culture. It is a culture of fear, hatred, and mistrust.
The cancer really took hold in the last political campaign. The viscous contest between political parties took on a particularly vicious tone. In the end, races were not determined by candidate qualifications, but political identity and ideology.
Most notably, the Presidential race was hardly a decisive victory. The nation remains bitterly divided over politics and the narrow victory of President Obama has done very little to heal the anger—in some ways, it has only added fuel to the fires on both sides!
One cannot avoid news about controversial issues such as immigration, debt, sequester, gender, and security. Angry rhetoric permeates both extremes of the political spectrum as you and I feel pressured to take stands, denounce the other as completely un-American and dangerous, or outright disgraceful to God.
Our Faith in Jesus Christ offers a different reality!
The political structures and mechanisms of this world are necessary for the ordering of society and maintaining proper structure in everyday life. Yet, as Christians, we need to remember they are not our god. They are not what will define us in God's eyes. They are not the means by which we will find peace in Christ Jesus.
The best thing we can do in this crazy and hostile political world is to call ourselves to a prayerful attention to the common good. Jesus Christ died for Republicans and Democrats. Jesus Christ died for the homeless, the immigrant, the welfare recipient, as well as the Corporate CEO, US Senator, and Banking Executive.
Remember this: The greatest threat to America is not our elected officials, terrorists, or the GDP. Rather our greatest threat is the level of fear and hatred of our citizens! —Dave
Back