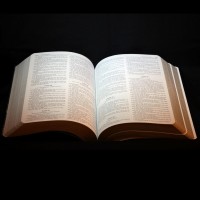 Sermon on the Mount Bible Study
By Rev. David Wilson Rogers | May 6, 2013
First Christian Church Family!
I have a big question for you. What do the Beatitudes, the Lord's Prayer, the Golden Rule, and the Lilies of the Field all have in common?
The Answer is that they were all illustrations Jesus used in what we know of as the "Sermon on the Mount."
This amazing and powerful teaching is the subject of a special Bible Study meeting at the church on Wednesday Evenings at 5:30 for the months of May and June!
We start the study this week, on May 8, with a study of the Beatitudes. Blessed are the poor in spirit, those who mourn, the meek, those who hunger and thirst for righteousness, the merciful, the pure in heart, the peacemakers, and those who are persecuted! With these focused blessings, Jesus begins the singularly most amazing teaching in all of scripture. It is life-changing!
Personally, I have long said that if all of Christianity had to be streamlined down to just a few select passages, the Sermon on the Mount would be a top contender. This indispensable work of Scriptural Teaching defines the life of a believer in simple, basic, and powerful ways. Whether you are a long-time student of this teaching or experiencing it for the very first time, this special Bible Study is for you!
The Sermon on the Mount contains Jesus' teaching on many of modern life's most challenging and confusing realities. It is, in many ways, a practical model of living a genuine Christian life. The Sermon deals with issues such as anger, adultery, divorce, integrity, revenge, charitable giving, prayer, spiritual disciplines, judgment, active faith, and living an authentic life of Christian spirituality.
(Please See the other side too!)
This study will meet weekly at 5:30 on Wednesday's through the end of June. We would like to encourage you to come out and be a part of this special time of prayer, study, fellowship, and learning. The atmosphere is relaxing and inviting. Questions and discussion are encouraged and welcome!
Please make it a priority to support this special study by being here on Wednesday evenings this summer! With the long days, the study concludes well before sunset every night, eliminating the need for nighttime driving.
On a personal note, I would also like you to know that the time we spend in focused, intentional Bible Study such as this is among the most powerful and transformative time I know of in the church. I love worship on Sunday mornings, but there is something absolutely amazing about Bible Study that traditional worship cannot touch. The Spirit moves through our studies at First Christian in ways that never cease to amaze me.
Please consider join us for this amazing opportunity to strengthen our personal faith, enhance our church's witness to the world, and cultivate our relationship with Christ in amazing ways! Better yet, bring a friend!
Looking forward to seeing you on Wednesday, May 8, at !
Back